Aquacel Extra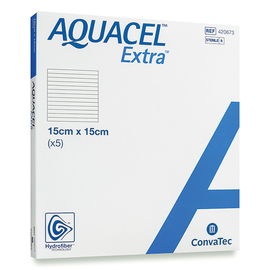 Description
Soft, sterile, non-woven pad or ribbon dressing composed of Hydrofiber (sodium carboxymethylcellulose). Absorbs wound fluid and transforms into a soft gel. Provides nine times stronger tensile strength and greater absorption compared with Aquacel.
Indications
For the management of: leg ulcers, pressure ulcers (categories II–IV), diabetic ulcers, surgical wounds, donor sites, abrasions, lacerations, first-degree and second-degree burns, traumatic wounds, painful wounds, wounds that are prone to bleeding. Use ribbon for dressing sinus, tracking or undermining wounds.
Contraindications
Should not be used on individuals who are sensitive to or who have had an allergic reaction to the dressing or its components.
Sizes Available
5x5cm; 10x10cm; 15x15cm; 4x10cm; 4x20cm; 4x30cm; 20x24cm
Price
£1.07; £2.55; £4.80; £1.39; £2.06; £3.11; £11.71
More on: Absorbents , Wound contact dressings , Protease modulating dressings