Aquacel Ag+ Extra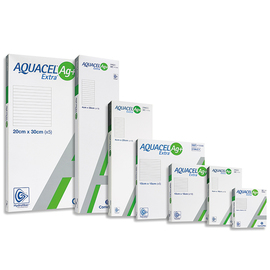 Description
Soft, sterile non-woven dressing made from two layers of 1.2% ionic silver-impregnated Hydrofiber; sodium carboxymethylcellulose and enhanced with antibiofilm technology, stitched together with cellulose-strengthening fibres. Absorbs wound fluid, and disrupts and breaks down biofilm to expose and kill bacteria, while preventing biofilm re-formation. Provides nine times stronger tensile strength and 50% greater absorption than Aquacel Ag.
Indications
Primary dressing for moderately to highly exuding wounds that are infected or at increased risk of infection, and wounds where bacteria are a suspected cause (or a factor in) chronicity/non-progression. When dressing sinus, tracking or undermining wounds, use Aquacel Ag+ ribbon dressing.
Contraindications
Should not be used on individuals who are sensitive to or who have had an allergic reaction to the dressing or its components.
Sizes Available
5x5cm; 10x10cm; 15x15cm; 20x30cm; 4x10cm; 4x20cm; 4x30cm
Price
£2.08; £4.94; £9.32; £23.13; £3.02; £3.93; £5.88
More on: Absorbents , Wound contact dressings , Antimicrobial , Silver , Protease modulating dressings