Comfeel Plus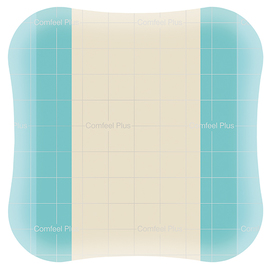 Description
Absorbent hydrocolloid dressing with added alginate for absorption, a vapour-permeable film backing and bevelled edge to reduce the risk of rolling edges. Mapping grid to aid wound measurement.
Indications
Indicated for non to moderate exuding wounds. Indicated for chronic wounds such as leg ulcers and pressure ulcers; and acute wounds, such as superficial burns, superficial partial-thickness burns, donor sites, postoperative wounds and skin abrasions.
Contraindications
Not to be used on exposed muscle or bone, or applied to patients who are known to be sensitive to one of the ingredients. Refer to full instructions for use.
Sizes Available
10x10cm; 15x15cm; 20x20cm; 4x6cm; 17x17cm (sacral)
Price
 £2.60; £5.56; £8.01; £1.02; £6.09 (sacral)
More on: Hydrocolloids