Comfeel Plus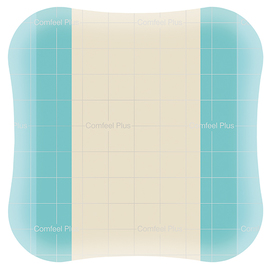 Description
Absorbent hydrocolloid dressing with added alginate for absorption, a vapour-permeable film backing and bevelled edge to reduce rucking. Free from animal products. 1cm grid printed on backing to aid wound measurement.
Indications
Indicated for non to moderate exuding wounds in early and late stages of healing.
Contraindications
Not to be used on exposed muscle or bone, or applied to patients who are known to be sensitive to one of the ingredients.
Sizes Available
10x10cm; 15x15cm; 20x20cm; 4x6cm; 17x17cm (sacral)
Price
 £2.53; £5.42; £7.80; £0.99; £5.92 (sacral)
More on: Hydrocolloids