Comfeel Plus Contour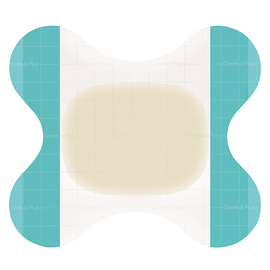 Description
Absorbent hydrocolloid dressing with added alginate for absorption, a vapour-permeable film backing and a bevelled edge to reduce rucking. Free from animal products. 1cm mapping grid to aid wound measurement and change indicator printed on backing. Shaped for use on difficult-to-dress areas, such as elbows, heels and pressure ulcers.
Indications
Low to moderately exuding pressure ulcers, leg ulcers, superficial burns, superficial partial-thickness burns, donor sites, postoperative wounds and skin abrasions. Use also as protection on epithelialised tissue or as a secondary dressing.
Contraindications
Not to be used on exposed muscle or bone, or applied to patients known to be sensitive to one of the ingredients.
Sizes Available
6x8cm; 9x11cm 
Price
£2.29; £3.98
More on: Hydrocolloids