Biatain Silicone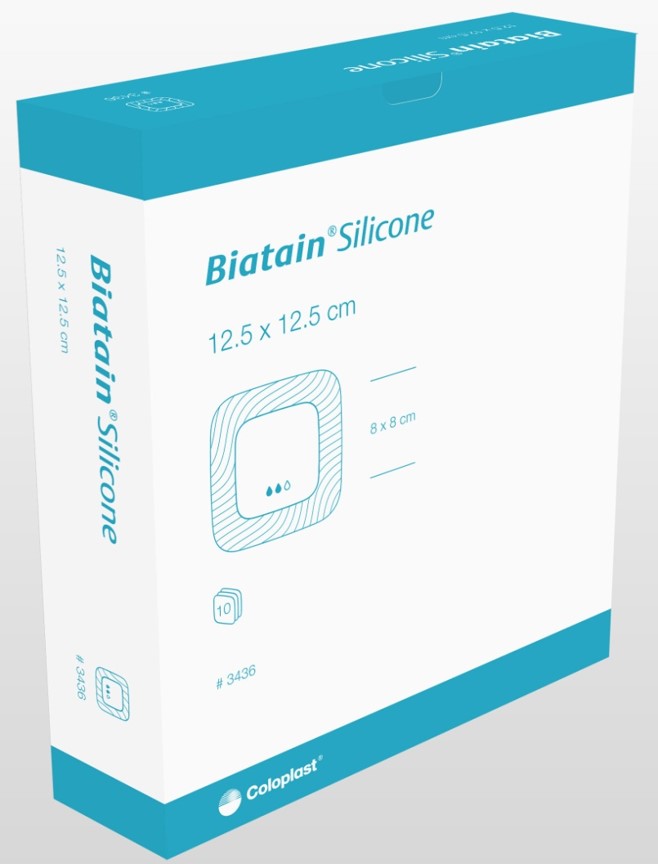 Description
A soft, conformable, absorbent polyurethane foam pad with a vapour-permeable film backing and a gentle silicone adhesive border. The dressing has 3DFit technology which means the foam conforms to the wound bed to fill the gap and reduce pooling of exudate. 
Indications
Indicated for a wide range of low to highly exuding wounds including acute wounds such as donor sites; postoperative and traumatic wounds; and chronic wounds such as leg ulcers, pressure ulcers and non-infected diabetic foot ulcers. May be used to prevent postoperative blistering. Can be used under compression therapy.
Contraindications
Should not be used on individuals who are sensitive to or have had an allergic reaction to the dressing or its compounds. Do not use with oxidising solutions such as hypochlorite and hydrogen peroxide solutions. Ensure that any other evaporating solution is completely dried off before dressing application. Do not cut the foam part of the product. Refer to full instructions for use.
Sizes Available
7.5x7.5cm; 10x10cm; 10x20cm; 10x30cm; 12.5x12.5cm; 15x15cm; 17.5x17.5cm; heel 18x18cm; multi-shape 14x19.5cm; sacral 15x19cm; sacral 25x25cm
Price
£1.55; £2.28; £2.88; £5.54; £2.79; £4.15; £5.51
Heel: £5.81
Multi-shape: £4.60
Sacral: £4.21; £6.07
More on: Foams