Biatain Adhesive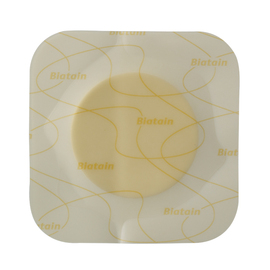 Description
Soft, conformable, polyurethane foam dressing with vapour-permeable film backing and an adhesive border. The dressing conforms to the wound bed to fill the gap and reduce pooling of exudate. Can be used under compression bandaging.
Indications
Moderately to highly exuding wounds including leg ulcers, pressure ulcers, second-degree burns, donor sites, postoperative wounds and skin abrasions. Can be used under compression therapy.
Contraindications
Do not use with oxidising solutions, e.g. hydrogen peroxide. Refer to full instructions for use.
Sizes Available
7.5x7.5cm; 10x10cm; 12.5x12.5cm; 15x15cm; 18x18cm; 17x17cm (sacral); 23x23cm (sacral); 19x20cm (heel); 17cm (contour); 18x28cm
Price
£1.14; £1.90; £2.77; £4.11; £5.58; £2.51 (sacral); £4.78 (sacral); £5.58 (heel); £5.37 (contour); £8.27
More on: Foams