LBF Barrier Cream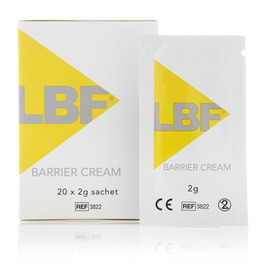 Description
Formulated to provide an effective, breathable barrier for intact skin from bodily fluids such as faeces and urine. Moisturises the skin and helps to maintain skin integrity. Will not affect the absorbency of incontinence pads or the adhesion of dressings or adhesive appliances. It is highly concentrated, and small amounts of cream will cover a large skin area.
Indications
To protect skin that is at risk or is likely to be compromised by corrosive bodily fluids (including urine, faeces, digestive enzymes), wound exudate, adhesives and friction.
Contraindications
Designed for external use only and should not be used on broken or infected skin. The cream should not be used where there is a known allergic sensitivity to any of the ingredients. Do not use if packaging is damaged.
Sizes Available
Sachets: 2g (x 20)
Tube: 30g; 100g
Price
Sachets: £6.80
Tube: £3.52; £7.75
More on: Skin protection