ActivHeal Silicone Foam Lite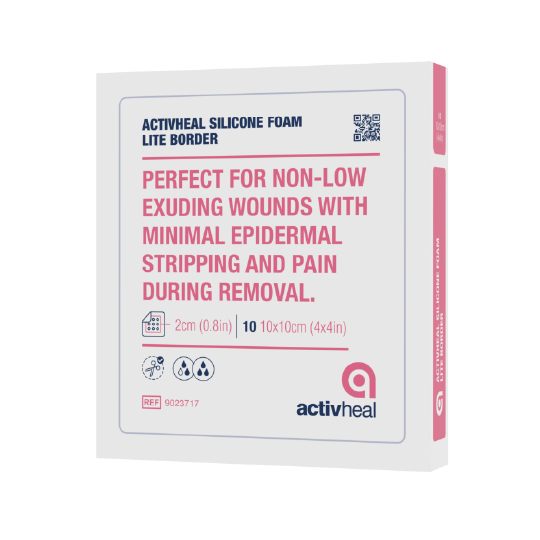 Description
A thin, sterile dressing with a trilaminate structure comprising a polyurethane central foam layer; a permeable, low-friction, waterproof polyurethane film; a wound contact layer with a silicone adhesive-coated perforated film. The dressing can be repositioned during wear and lifted to allow observation. Latex-free.
Indications
Non-exuding or mildly exuding chronic and acute wounds including pressure ulcers, diabetic foot ulcers, leg and foot ulcers, traumatic wounds, superficial- and partial-thickness burns and radiation-damaged skin. Can be used on fragile skin and under compression. 
Contraindications
Known sensitivity to any of its ingredients. Do not use with oxidising solutions such as hypochlorite or hydrogen peroxide, as these can break down the absorbent polyurethane component of the dressing. Not for surgical implantation.
Sizes Available
7.5x7.5cm; 10x10cm; 15x15cm; 10x20cm
Price
£0.96; £1.31; £2.41; £2.43
More on: Foams