ActivHeal Silicone Foam Border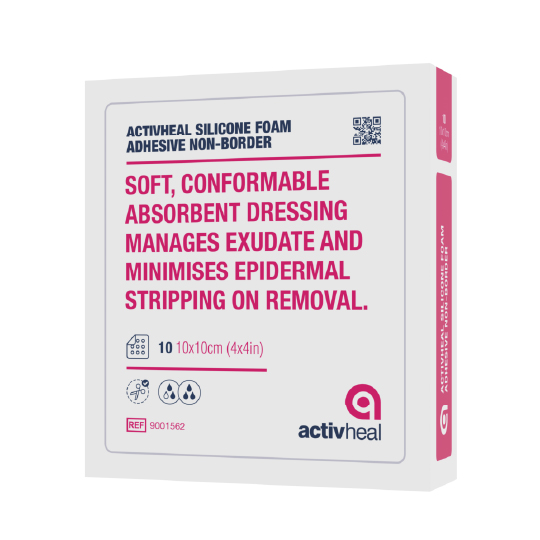 Description
A sterile absorbent dressing consisting of a hydrophilic polyurethane foam pad, without and without a border. The outer layer comprises a pink, low-friction, waterproof, polyurethane film. The perforated, silicone, adhesive wound contact layer enables exudate uptake and prevents the dressing from sticking to the wound.
Indications
Moderately to heavily exuding wounds such as venous and arterial leg ulcers, diabetic foot ulcers, postoperative wounds. Can be used as a secondary dressing on cavity wounds and under compression bandaging.
Contraindications
Dry or lightly exuding wounds. Do not use on individuals with a known sensitivity to polyurethane films, foams or silicone, or with full-thickness burns.
Sizes Available
Border: 7.5x7.5cm; 10x10cm; 12.5x12.5cm; 15x15cm; 20x20cm; 10x20cm 18x18.5cm (sacral)
Non-border: 5x5cm; 7.5x7.5cm; 10x10cm; 15x15cm; 20x20cm; 10x20cm 
Price
Border: £1.08; £1.64; £2.35; £2.88; £4.97; £2.92; £3.65
Non-border: £0.84; £0.98; £1.45; £2.67; £4.29; £2.69
More on: Foams