ActivHeal Aquafiber Ag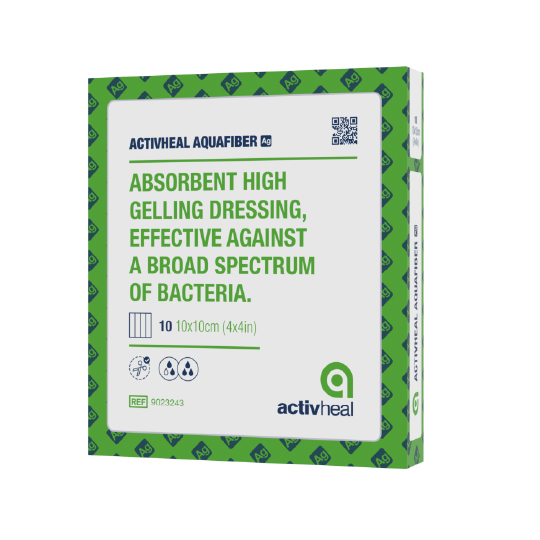 Description
A sterile, non-woven pad consisting of a high M (mannuronic acid) calcium alginate and carboxymethylcellulose (CMC). Silver ions are released in the presence of wound fluid. As fluid is absorbed, the alginate forms a soft gel. Effective for up to 7 days.
Indications
Moderately to heavily exuding partial- to full-thickness wounds, postoperative wounds, traumatic wounds (dermal lesions, trauma injuries or incisions), leg ulcers, pressure ulcers, diabetic foot ulcers, skin graft and donor sites, cavity wounds, superficial- and partial-thickness burns.
Contraindications
Dry or lightly exuding wounds. Do not use on individuals with a known sensitivity to alginates or silver, to control heavy bleeding, as a surgical implant, or on full-thickness burns.
Sizes Available
5x5cm; 10x10cm; 15x15cm; 2.7x 32cm (ribbon)
Price
£1.69; £4.03; £7.59; £4.10
More on: Silver , Antimicrobial