KerraCel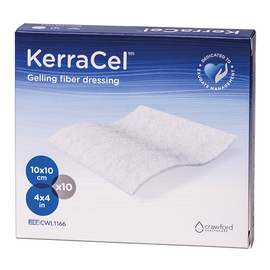 Description
A sterile, gelling fibre dressing made from carboxymethyl cellulose (CMC). The non-woven gelling fibres absorb exudate from the wound, turning them into a soft gel that maintains a moist wound management environment.
Indications
Moderately or heavily exuding wounds (chronic or acute). Can be used under compression.
Contraindications
Know allergy or hypersensitivity to CMC. Should not be used for surgical implanataion or to control heavy bleeding.
Sizes Available
5x5cm; 10x10cm; 15x15cm; 2.5x45cm
Price
£0.60; £1.44; £2.71; £1.91
More on: Absorbents