Adaptic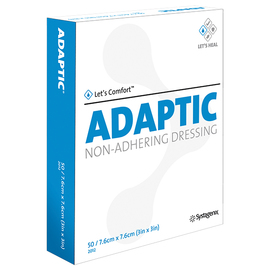 Description
A non-adherent primary dressing comprised of knitted cellulose acetate mesh impregnated with a petrolatum emulsion. Can be cut to size. Can be used with compression therapy.
Indications
Dry to highly exuding wounds including first- and second-degree burns; lacerations and abrasions; grafts; venous leg ulcers; pressure ulcers; nail extractions; eczema; staples and suture lines; surgical incisions and reconstructive procedures.
Contraindications
Known sensitivity to any of the dressing components.
Sizes Available
7.6x7.6cm (x 50); 7.6x20.3cm (3 x 36); 7.6x40.6cm (x 36); 7.6x20.3cm (x 24); 7.6x152.4cm (x 1); 12.7x22.9cm (x 12)
Price
Contact supplier
More on: Wound contact dressings