Heelift Suspension Boot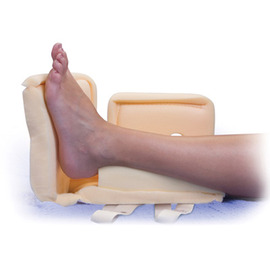 Description
The Heelift family of suspension boots (the Glide, AFO and Classic) all use a fixed pad of latex-free foam to completely elevate the heel, redistributing pressure along the calf. With friction-free Tricot backing and soft felt closure straps for a secure fit, it eliminates the risk of pressure, friction and shear to the heel. The foam support of the forefoot allows dorsiflexion while preventing heel cord contracture (foot drop) and external hip rotation (with the spare pad).
Indications
Prolonged immobility; neurological sensory deficit; peripheral neuropathy (e.g. diabetes); older people.
Contraindications
None listed.
Sizes Available
Standard, bariatric and petite. Soft foam design and spare elevation pad make it possible to customise the device to meet individual patients' needs and offload other lower extremity pressure points.
Price
Now available on the NHS Supply Chain.
Heelift is distributed in the UK by:
V-M Orthotics Ltd,
Unit 25 Halesworth Business Centre, Norwich Road, Halesworth, Suffolk IP19 8QJ; 01986 798120; www.heelift.uk.com.
Distributed in the UK and Ireland by:
Moorings Mediquip UK Ltd,
51 Slaght Road, Ballymena, Co Antrim, Northern Ireland BT42 2JH; 028 2563 2777; www.heelift.co.uk.
More on: Pressure offloading , Other medical devices