Heel Up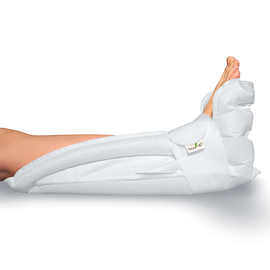 Description
A range of inflatable offloading devices designed to completely elevate the heel. Made from a soft, absorbent, skin-friendly four-layer material, the device is shaped with a channel that accommodates the Achilles tendon. ISO 10993-10 testing has shown it is not associated with skin irritation and sensitisation.
Indications
Patients who are immobile for prolonged periods, and/or have neurological sensory deficit or peripheral neuropathy.
Contraindications
None listed.
Sizes Available
Available in four adult and two paediatric sizes. Each pack contains 12 devices
Price
£9.95 (plus VAT and postage). Available on the NHS Supply Chain.
More on: Pressure offloading , Other medical devices