UrgoTul Silver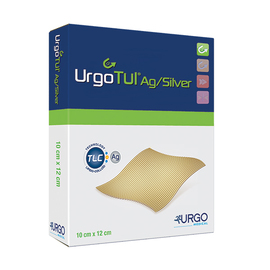 Description
Flexible and conformable antimicrobial contact layer, consisting of a non-adherent TLC-Ag Healing Matrix impregnated with silver particles. Promotes wound healing and provides atraumatic dressing changes.
Indications
Suitable for all non- to low-exuding infected wounds such as chronic wounds (leg ulcers, pressure ulcers and diabetic foot ulcers) and acute wounds (burns, traumatic and surgical wounds). Can also be used with a secondary dressing on moderately to highly exuding wounds. The dressing can stay in place for up to 7 days.
Contraindications
Sensitivity to silver. Do not use on patients undergoing a MRI scan. A new dressing can be applied after the procedure. Avoid contact with electrodes or conductive gels during electronic procedures. 
Sizes Available
10x12cm; 15x20cm
Price
£3.28; £9.30
More on: Antimicrobial , Silver , Wound contact dressings