Cutinova Hydro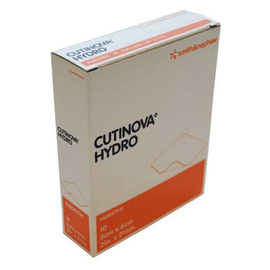 Description
Hydro-selective, semi-transparent, self-adherent dressing comprising a polyurethane gel matrix with absorbent particles and a polyurethane film top layer.
Indications
Management of exuding wounds that heal by secondary intention such as leg ulcers, pressure ulcers, superficial- and partial-thickness burns and diabetic foot ulcers. Can also be used as a secondary dressing on cavity wounds when the surrounding skin is intact and healthy. 
Contraindications
Do not use on wounds with exposed muscle, bone or tendon where a risk of drying out occurs. Do not use on wounds where the surrounding skin is damaged or very sensitive. For details of precautions, please contact supplier.
Sizes Available
 10x10cm; 5x6cm; 15x20cm
Price
£2.64; £1.31; £5.59
More on: Polyurethane matrix dressing , Other dressings