Aderma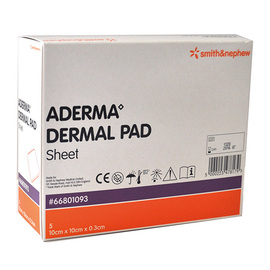 Description
Polymer gel, shaped pad that redistributes pressure while protecting and padding bony prominences.
Indications
To help reduce the risk of pressure-related tissue damage in areas at risk of pressure-related tissue damage, such as category I pressure ulcers and recently healed ulcers. 
Contraindications
Do not use on broken skin or on any areas that obstruct airways. Do not apply over wound dressings as this may compromise the breathability of the dressing and the pressure-redistribution properties of the dermal pad. Discontinue immediately if deep tissue injury is suspected/confirmed or if skin integrity is broken. 
Sizes Available
Sacrum/ankle wrap
Heel (standard, extra large)
Sheet: 10x10x0.3cm; 10x10x1.2cm; 20x20x0.3cm
Strips: 50x2.5x0.3cm; 30x5x0.3cm
Price
Sacrum/ankle wrap: £17.83
Heel: £15.88; £18.09
Sheet: £4.54; £13.63; £18.14
Strips: £5.68; £6.81
More on: Pressure offloading , Other medical devices