Acticoat 7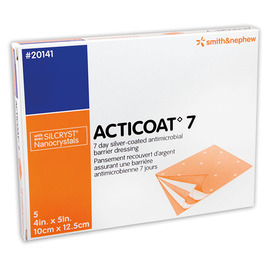 Description
Consists of five layers: two layers of absorbent rayon/polyester interleaved between three layers of nanocrystalline silver-coated, low-adherent polyethylene net. 
Indications
As an absorbent antimicrobial barrier dressing over partial- and full-thickness wounds such as pressure ulcers, venous leg ulcers, diabetic foot ulcers, burns, and recipient graft sites. Can be used on infected wounds. The dressing's antimicrobial barrier properties remain effective for a minimum of 7 days.
Contraindications
Remove before administrating radiation therapy.
Sizes Available
5x5cm; 10x12.5cm; 15x15cm
Price
£6.60; £19.66; £35.35
More on: Silver , Antimicrobial