Sigvaris Essential Comfortable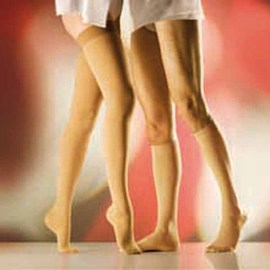 Description
RAL Class 1 and 2 compression unisex garments for the lower limb. Garments are available in Savannah, black and caramel colours on the Drug Tariff. Grey is available but not on the Drug Tariff. Made-to-measure is available in skin colour.
Indications
Lymphoedema management following oedema reduction.
Contraindications
None listed.
Sizes Available
All styles available in XXS–XL.
Below knee, panty, tights available in normal and long.
Thigh high available in short, normal and long.
Class 1 (18–21mmHg), Class 2  (23–32mmHg):
Below Knee Open Toe
Below Knee Open Toe Plus
Below Knee Closed Toe
Below Knee Closed Toe Plus
Thigh High Open Toe
Thigh High Open Toe Plus
Thigh High Closed Toe
Thigh High Closed Toe Plus
Thigh High Open Toe with Grip Top
Thigh High Plus Open Toe with Grip Top
Thigh High Closed Toe with Grip Top
Thigh High Closed Toe with Grip Top Plus
Panty Open Toe
Panty Open Toe Plus
Panty Closed Toe
Panty Closed Toe Plus
Panty Extra Open Toe
Panty Extra Open Toe Plus
Panty Extra Closed Toe
Panty Extra Closed Toe Plus
Thigh High Open Toe with Waist Attachment (Left or Right)
Thigh High Open Toe with Waist Attachment (Left or Right) Plus
Thigh High Closed Toe with Waist Attachment (Left or Right)
Thigh High Closed Toe with Waist Attachment (Left or Right) Plus
Class 2 only:
Tights Bodyform Open Toe
Tights Bodyform Open Toe Plus
Tights Bodyform Closed Toe
Tights Bodyform Closed Toe Plus
Price
Below knee: £27.87
Thigh High and Panty: £53.56
Thigh High with Waist Attachment (per piece): £31.65
Tights Bodyform: £53.56
More on: Hosiery: lymphoedema , Compression