Vacutex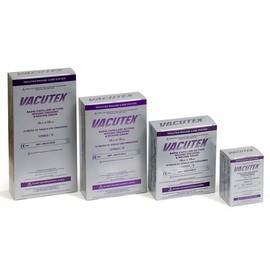 Description
Rapid, hydroactive capillary action dressing.
Indications
Oxygen, exudate and oedema management of complex wounds including diabetic foot ulcers, venous leg ulcers, pressure ulcers, dehisced postoperative wounds, surgical and traumatic wounds with problematic drainage and oedema, as well as epidermolysis bullosa. Can be used on cavity wounds and under compression therapy. 
Contraindications
For wounds with low exudate levels, apply a perforated non-adherent layer between the wound bed and dressing. Do not use on arterial bleeds or dry necrotic wounds. Do not use in combination with thick Vaseline-based gels or dressings as these substances will block the microcapillary channels.
Sizes Available
5x5cm; 10x10cm; 10x15cm; 10x20cm
Price
£0.96; £1.70; £2.29; £2.75
More on: Absorbents