Mextra Superabsorbent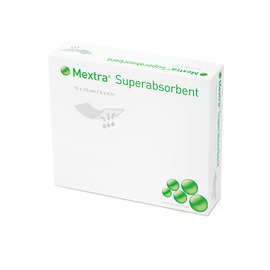 Description
Superabsorbent dressing with fluid-repellent, non-woven backing, a superabsorbent core and a non-woven wound contact layer. Exudate is absorbed through the wound contact layer and retained within the core.
Indications
Moderately to highly exuding wounds.
Contraindications
Do not use in wound cavities or on patients with a known sensitivity to the dressing or its components.
Sizes Available
12.5x12.5cm; 12.5x17.5cm; 12.5x22.5cm; 17.5x22.5cm; 22.5x27.5cm; 22.5x32.5cm; 22.5x42.5cm
Price
£1.30; £1.57; £1.79; £2.53; £3.11; £4.00; £4.36
More on: Protease modulating dressings , Absorbents , Superabsorbents