Mextra Superabsorbent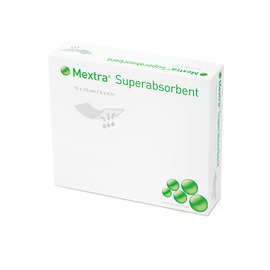 Description
Superabsorbent dressing with fluid-repellent backing. The dressing's four-layer construction works in a precise sequence to facilitate exudate management. Exudate is absorbed through the non-woven wound contact layer. The exudate is then spread via a distribution layer and retained within a network of superabsorbent particles and fibres. The fluid-repellent backing prevents strikethrough.
Indications
Moderately to highly exuding wounds.
Contraindications
Do not use in wound cavities or on patients with a known sensitivity to the dressing or its components.
Sizes Available
12.5x12.5cm; 12.5x17.5cm; 12.5x22.5cm; 17.5x22.5cm; 22.5x27.5cm; 22.5x32cm; 22.5x42.5cm
Price
£1.27; £1.53; £1.75; £2.47; £3.03; £3.90; £4.25
More on: Protease modulating dressings , Absorbents , Superabsorbents