Mepitel One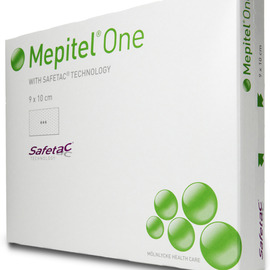 Description
Soft silicone wound contact layer with silicone on one side of a highly transparent and flexible polyurethane mesh.
Indications
A wide range of exuding wounds including skin tears, skin abrasions, sutured wounds, partial-thickness burns, lacerations, partial- and full-thickness grafts, and diabetic foot, venous and arterial leg ulcers. Can also be used as a protective layer on non-exuding wounds, blisters, fragile skin, exposed fragile tissues and with negative pressure wound therapy (NPWT) systems.
Contraindications
Do not use on patients with known sensitivity to the dressing or its components. Imprints can occur when used on burns treated with meshed grafts if the product is not used properly.
Sizes Available
6x7cm; 9x10cm; 13x15cm; 24x27.5cm; 27.5x50cm
Price
£1.27; £2.50; £5.16; £14.79; £40.03
More on: Wound contact dressings