Mepitac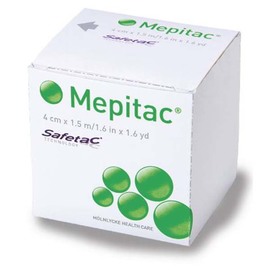 Description
A highly conformable soft silicone fixation tape that is easy to apply and remove. Consists of a soft silicone wound contact layer, knitted fabric and a film backing.
Indications
Fixation of medical devices such as drains, tubes, probes, electrodes, IV cannulae and dressings. Also offers gentle skin protection when used under devices such as tubes.
Contraindications
Not suitable for fixation of arterial catheters and arterial cannulae.
Sizes Available
2cmx3m; 4cmx1.5m
Price
£7.28; £7.28
More on: Fixings, tapes , Basic dressings