Mepilex Transfer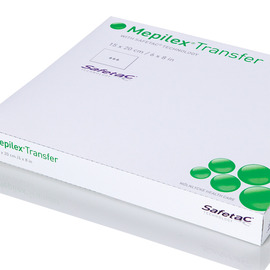 Description
A soft silicone contact layer, with an ultra-conformable foam that allows exudate to be transferred vertically into a secondary absorbent pad.
Indications
Exuding and difficult-to-dress wounds. Can also be used as a protective layer on non-exuding wounds and/or large areas of fragile skin. Can be used under compression.
Contraindications
Do not use on patients with known sensitivity to the dressing or its components. Use with care on heavily bleeding wounds.
Sizes Available
7.5x8.5cm; 10x12cm; 15x20cm; 20x50cm
Price
£2.27; £3.58; £10.83; £27.69
More on: Wound contact dressings