Mepilex Transfer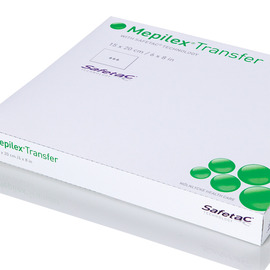 Description
A soft silicone contact layer, with an ultra-conformable foam that allows exudate to be transferred vertically into a secondary absorbent pad.
Indications
Intended for a wide range of exuding wounds. Can also be used as protection of compromised and/or fragile skin.
Contraindications
Do not use on patients with known sensitivity to the dressing or its components. Use with care on heavily bleeding wounds.
Sizes Available
7.5x8.5cm; 10x12cm; 15x20cm; 20x50cm
Price
£2.39; £3.76; £11.40; £29.12
More on: Wound contact dressings