Mepilex Border Sacrum Ag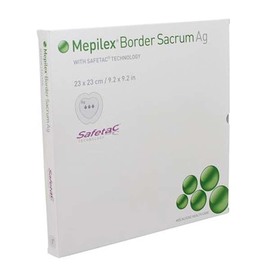 Description
Antimicrobial bordered foam dressing shaped to conform to the sacrum. Consists of a soft silicone wound contact layer, an absorbent foam pad containing a silver compound and activated carbon, a layer with superabsorbent fibres and a film backing.
Indications
Medium to highly exuding wounds including leg and foot ulcers, pressure ulcers, malignant wounds, partial-thickness burns, traumatic and surgical wounds where an antimicrobial action is indicated. Can be used on infected wounds as part of a treatment regimen under supervision of a qualified health-care professional.
Contraindications
Known sensitivity to silver. Must be removed before examinations such as X-ray, ultrasonic treatment and diathermy.
Sizes Available
18x18cm; 20x20cm; 23x23cm
Price
£12.45; £15.14; £19.89
More on: Foams , Antimicrobial , Silver