Mepilex Border Ag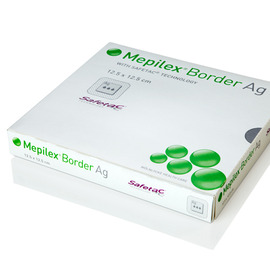 Description
Antimicrobial bordered foam dressing consisting of a soft silicone wound contact layer, an absorbent foam pad containing a silver compound and activated carbon, a layer with superabsorbent fibres and a film backing. The silver compound (silver sulphate) releases silver ions to create a bacterial barrier and inactive a wide range of wound pathogens (bacteria and fungi), which may also reduce malodour.
Indications
Management of medium to highly exuding wounds including leg and foot ulcers, pressure ulcers, malignant wounds, partial-thickness burns, traumatic and surgical wounds where an antimicrobial action is indicated. Can be used on infected wounds as part of a treatment regimen under supervision of a qualified health-care professional.
Contraindications
Known sensitivity to silver. Must be removed before examinations such as X-ray, ultrasound, diathermy or magnetic resonance imaging.
Sizes Available
7x7.5cm; 10x12.5cm; 10x20cm; 10x25cm; 10x30cm; 15x17.5cm; 17x20cm
Price
£3.68; £6.65; £9.67; £12.11; £14.52; £12.21; £15.81
More on: Foams , Antimicrobial , Silver