Melgisorb Ag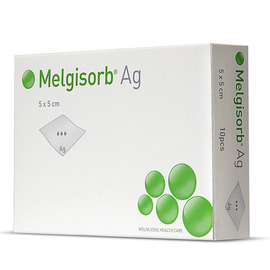 Description
Silver-containing alginate dressing with CMC fibres.
Indications
Moderately to heavily exuding partial- to full-thickness wounds including postoperative wounds, traumatic wounds, leg ulcers, pressure ulcers, diabetic foot ulcers, graft and donor sites, cavity wounds and partial-thickness burns.
Contraindications
Not indicated for dry or lightly exuding wounds, or individuals with a known sensitivity to alginate or sliver. Should not be used to control heavy bleeding or following surgical implantation.
Sizes Available
5x5cm; 10x10cm; 15x15cm
Price
£1.97; £3.92; £8.32
More on: Silver , Antimicrobial