Mefix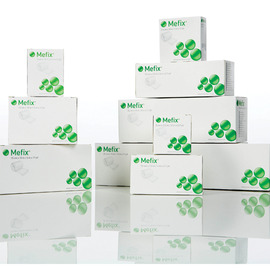 Description
Comformable, flexible and skin-friendly adhesive fabric tape providing air and water vapour passage and gentle yet secure fixation using polyacrylate adhesive. The tape is non-absorbent and the stretchable fabric backing provides a barrier to fluids. The tape comes with protective paper pre-measured in 4-inch intervals for easy measurement, application and removal, and can be cut to shape and size of the wound.
Indications
Fixation of dressings, swabs, catheters, and tubes.
Contraindications
None listed.
Sizes Available
2.5cmx5m; 5cmx5m; 10cmx5m; 15cmx5m; 20cmx5m; 30cmx5m
2.5cmx10m; 5cmx10m; 10cmx10m; 15cmx10m; 20cmx10m; 30cmx10m
Price
£1.10; £1.95; £3.11; £4.23; £5.42; £7.79
Remainder: contact supplier.
More on: Fixings, tapes , Basic dressings