Exufiber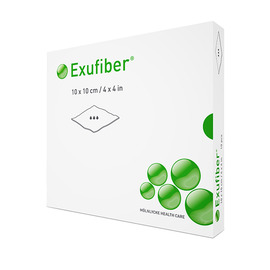 Description
A dressing patented with Hydrolock technology, which contains strong polyvinyl alcohol (PVA) fibres that are entangled together in all directions, as well as mechanically secured to each other, providing high wet integrity. Locking properties of the PVA technology, and the even space between the fibres, minimises free fluid inside the product, give it high absorption and retention capacity.
Indications
Highly exuding wounds including leg and foot ulcers, pressure ulcers, partial-thickness burns, surgical wounds, donor sites and malignant wounds.
Contraindications
None listed
Sizes Available
Square: 5x5cm; 10x10cm; 15x15cm.
Rectangular: 2x4.5cm; 4.5x10cm; 4.5x20cm; 4.5x30cm; 20x30cm.
Ribbon: 1x45cm; 2x45cm
Price
Square: £0.85; £2.05; £3.85.
Rectangular: £1.85; £1.12; £1.64; £2.48; £8.94
Ribbon: £1.65; £1.85
More on: Absorbents