Plurogel Burn and Wound Dressing with PSSD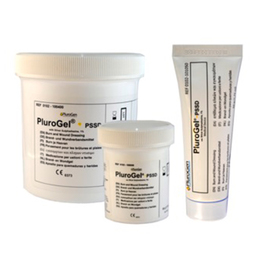 Description
Conformable gel containing PluroGel, which is comprised of a concentrated surfactant, plus the antimicrobial silver sulfadiazine. Micelle matrix technology aids PluroGel in maintaining a moist wound healing environment, promoting debridement, protecting healthy tissue and cleansing the wound. The surfactant aids in biofilm disruption and PSSD offers antibacterial action.
Indications
Light to moderately exuding partial- and full-thickness wounds, pressure ulcers, venous leg ulcers, diabetic foot ulcers, first- and second-degree burns, donor sites, surgical wounds, debrided and partial-thickness wounds.
Contraindications
Known hypersensitivity to the product, silver sulphadiazine, silver and or sulfonamides.
Sizes Available
50g; 400g
Price
Contact supplier.
More on: Irrigation and cleansing , Basic dressings