Kolspon Sponge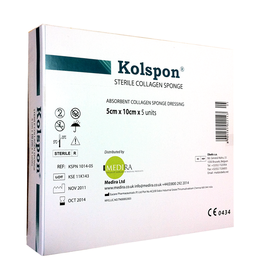 Description
An intact type 1 collagen sponge from a piscean source. Sterile and freeze dried. Has an open pore structure that allows for gaseous exchange. Fully biodegradable, biocompatible and anti-allergenic.
Indications
Non-healing, delayed healing or chronic cavity wounds or sinuses; pilonidal sinuses. Can be used on low to heavily exuding wounds. Non-infected wounds.
Contraindications
Known sensitivity to collagen; dry wounds.
Sizes Available
5x5cm; 10x10cm; 10x20cm
Price
Contact supplier
More on: Collagen dressing , Other dressings