Helisorb Sheet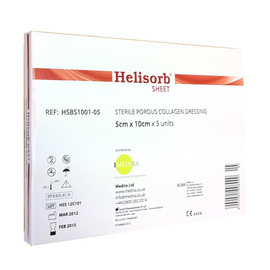 Description
An intact type 1 collagen from a piscean source. Sterile and freeze dried. It has a fine non-stick nylon mesh on one side, which can be removed before application. Has haemostatic properties and is biodegradable, biocompatible and anti-allergenic.
Indications
Clean partial-thickness burns; full-thickness dermatological wounds or trauma; may be applied over bone and tendon; skin tears; primary dressing for surgical wounds; non-infected wounds.
Contraindications
Known sensitivity to collagen.
Sizes Available
5x10cm; 10x10cm; 10x20cm; 20x30cm
Price
Contact supplier
More on: Collagen dressing , Other dressings , Protease modulating dressings