Helisorb Particles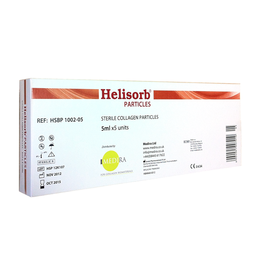 Description
An intact type 1 collagen from a piscean source. Available in a sterile, freeze-dried, particle form. Fully biodegradable, biocompatible and anti-allergenic. Helps move wounds from the inflammatory to the remodelling phase.
Indications
Non-healing, delayed healing or chronic wounds; diabetic foot ulcers; venous leg ulcers; dehisced incisional wounds; cavity wounds. Can be used on low to heavily exuding wounds including infected wounds, wet sloughy inflamed wounds, pressure ulcers, and epidermolysis bullosa.
Contraindications
Known sensitivity to collagen; dry wounds.
Sizes Available
5ml; 10ml vials
Price
Contact supplier
More on: Collagen dressing , Other dressings , Protease modulating dressings