mediven plus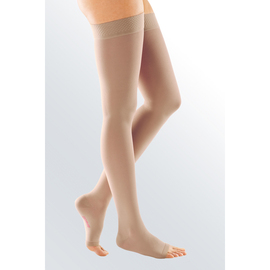 Description
Open toe RAL class 1, 2 and 3 compression garments for the leg. Available in a wide range of colours, plus trend colours. Latex-free.
Indications
For the management of lymphoedema, venous disorders and associated conditions.
Contraindications
Arterial circulation disorders; right heart failure; pre-existing gangrenous damage; neuropathy; and/or inability to tolerate the stocking fabric.
Sizes Available
Class 1 (18–21mmHg), class 2 (23–32mmHg) and class 3 (34–46mmHg).
Sizes: I–VII
Class 1 and 2 styles:
Below knee, standard and petite
Below knee extra wide, standard and petite
Thigh length with top band, standard and petite
Thigh length with top band extra wide, standard and petite (beige only)
Thigh length waist attachment (left or right), standard and petite

Class 3 styles:
Below knee, standard and petite
Below knee extra wide standard
Thigh length with top band, standard and petite
Thigh length with top band extra wide (beige only), standard and petite
Thigh length waist attachment (left or right), standard and petite
Price
Class 1 and 2: 
Per pair:
Below knee, standard and petite: £30.31
Below knee extra wide, standard and petite: £34.59
Thigh length with top band, petite: £54.32
Thigh length with top band, standard: £58.24
Thigh length with top band extra wide, standard: £58.03
Thigh length with top band extra wide, petite: £54.12
Per item:
Thigh length waist attachment (left or right), standard and petite: £30.43
Class 3: 
Below knee, standard and petite: £33.28
Below knee extra wide, standard: £37.80
Thigh length with top band, standard and petite: £60.62
Thigh length with top band extra wide (beige only), standard and petite: £60.40
Thigh length waist attachment (left or right), standard and petite: £33.49
More on: Hosiery: lymphoedema , Compression