Juxtalite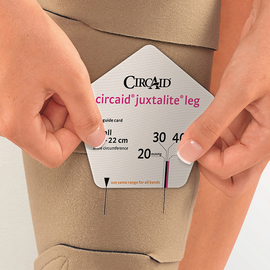 Description
A wrap-around device that can be used as an alternative to bandaging or compression garments in venous ulceration and after healing. Has a built-in pressure system guide to ensure that correct and consistent pressure (20, 30, 40 or 50mmHg) is applied to the lower leg. The system can be re-adjusted to maintain the pressure required. Designed to be effective for 6 months of daily use. Latex-free.
The following accessories are also available: Comfort Leg Liner (contains two liners) and Comfort Compression Anklets, standard or large (contains two anklets)
Indications
Promotes healing in venous leg ulcers. For comorbidities that make applying compression garments difficult. An alternative to compression hosiery for prevention of venous leg ulcer recurrence
Contraindications
Arterial circulation disorders; right heart failure; pulmonary oedema; pre-existing gangrenous damage.
Sizes Available
S, M, L, XL, XXL; extra-wide is available in M, L and XL in short and long lengths
Price
£98.94
More on: Bandaging , Hosiery: leg ulceration , Compression