Juxtacures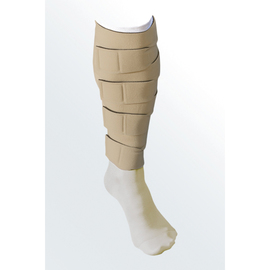 Description
An alternative to bandaging, this has a built-in pressure system guide that helps to ensure that correct and consistent pressure (20, 30, 40 or 50mmHg) is applied. The system can be re-adjusted to maintain the pressure required. Designed to be effective for 6 months of daily use. Latex-free. NICE Medtech innovation briefing [MIB25] provide a description of Juxtacures, including its likely place in therapy, the costs of using the technology and a critical review of the strengths and weaknesses of the relevant published evidence.
The following accessories are also available: Comfort Leg Liner (contains two liners) and Comfort Compression Anklets, standard or large (contains two anklets).
Indications
Promotes healing in venous leg ulcers.
Contraindications
Arterial circulation disorders; right heart failure; pulmonary oedema; pre-existing gangrenous damage; and/or inability to tolerate the fabric.
Sizes Available
Short, standard or long; this garment is sized according to the patient's specific measurements
Price
Pack (containing Juxta CURES, 2 standard anklets and 2 liners): £162.07
Accessories:
Comfort Leg Liner: £14.11 (pair)
Comfort Compression Anklet: £11.94 (pair, standard or large)
More on: Compression , Bandaging , Hosiery: leg ulceration