Carolon Multi-layer Compression System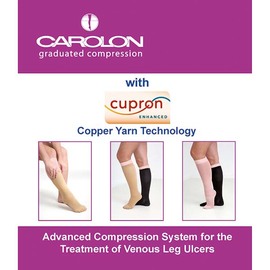 Description
Contains 1 overstocking and 2 understockings with Cupron copper yarn technology to reduce odour and improve the appearance of the skin. Available in 2 compression levels (30–35mmHg and 35–40mmHg) and in black or beige. Latex-free.
Indications
Treatment of venous leg ulcers after oedema has been controlled.
Contraindications
Do not use on arterial and mixed aetiology ulcers. Discontinue use if redness or irritation results, or if toes become discoloured (black or blue). Do not use in direct contact with open wounds, but is suitable for use with leg ulcers appropriately covered with a primary dressing.
Sizes Available
In both 30–35mmHg and 35–40mmHg compression levels the following sizes are available:
A–E in black (short and regular lengths);
A–G in beige (short and regular lengths).
Maximum ankle circumference of 35.5cm.
Maximum calf circumference of 66cm
Price
£26.79
More on: Hosiery: leg ulceration , Compression