Medihoney Barrier Cream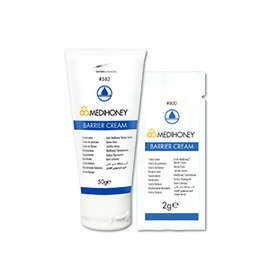 Description
Barrier cream containing active Medihoney antibacterial honey. Helps to reduce inflammation, prevent maceration, excoriation and irritation resulting from effects of incontinence and diarrhoea. Can be applied to injured skin, peri-wound areas, pressure areas and skin folds. Moisturisers and protects dry skin.
Indications
Protects at-risk skin from breakdown.
Protects wound margins from exudate damage.
Protects skin from damage caused by friction or shear.
Treatment of incontinence-associated dermatitis and atopic eczema.
Treats blistered skin.
Prevention and treatment of maceration and excoriation.
Helps maintain the skin pH.
Suitable for all skin types, including neonates, children and older people.
Contraindications
Patch test before first use.
Sizes Available
Tube: 50g
Sachets: 2g (x 20)
Price
Tube: £4.89.
Satchets: £6.11
More on: Skin protection