Elasticated Viscose Stockinette 4215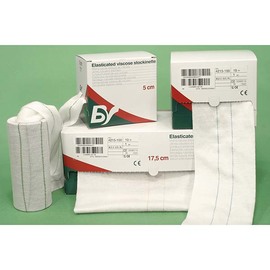 Description
Elasticated viscose stockinette. Air circulates between the threads, helping to avoid maceration. The slight elastication enables freedom of movement.
Indications
Can also used for dressing retention. Also indicated for patch wrapping and as an undercast stockinette.
Contraindications
None listed.
Sizes Available
Red line: 10m x 3.5cm
Green line: 10mx5cm
Blue line: 10mx7.5cm
Yellow line: 10mx10.75cm
Beige line: 10m x17.5cm
Price
Red line: £70.87 (32);
Green line: £47.39 (20);
Blue line: £36.80 (12);
Yellow line: £33.20 (8);
Beige line: £34.75 (6).
Available through NHS Supply Chain.
More on: Tubular bandages , Basic dressings