Cosmopor IV Transparent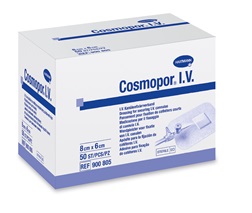 Description
Non-active, non-invasive and sterile self-adhesive dressing, with waterproof film to protect against bacterial penetration and external contaminants. A transparent film window allows visual control of the puncture site without dressing changes.
Indications
Sterile covering and fixation of cannulae/catheters.
Contraindications
Do not use for absorbing exudate or covering wounds. Do not use on patients with a known allergy or sensitivity to any of the ingredients.
Sizes Available
6x5cm; 9x7cm; 12x10cm
Price
Not available on the Drug Tariff.
More on: Films , Fixings, tapes