Atrauman Ag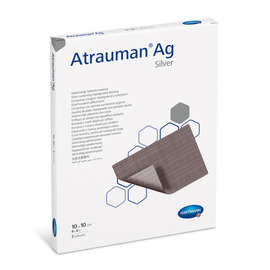 Description
A non-adherent contact layer, composed of polyamide fibres, coated with elemental silver and impregnated with non-medicated neutral triglycerides. Petroleum- and paraffin-free.
Indications
For the treatment of chronic leg ulcers, diabetic ulcers on the lower limb and pressure ulcers. Also suitable for the treatment of up to second-degree burns.
Contraindications
Known allergy to any of the dressing's ingredients. Do not use on dry wounds.
Sizes Available
5x5cm; 10x10cm; 10x20cm
Price
£0.55; £1.34; £2.63
More on: Antimicrobial , Silver , Wound contact dressings