Atrauman Ag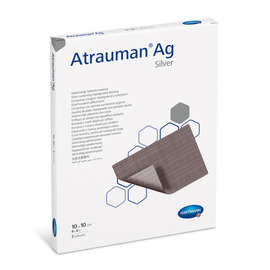 Description
Support fabric made of polyamide fibres coated with elemental silver. Impregnated with neutral tri-glycerides. Non-medicated and does not contain paraffin.
Indications
For the treatment of chronic leg ulcers, diabetic ulcers on the lower limb and pressure ulcers. Also suitable for the treatment of up to second-degree burns.
Contraindications
Known allergy to any of the dressing's ingredients. Do not use on dry wounds.
Sizes Available
5x5cm; 10x10cm; 10x20cm
Price
£0.55; £1.34; £2.63
More on: Antimicrobial , Silver , Wound contact dressings