Atrauman Ag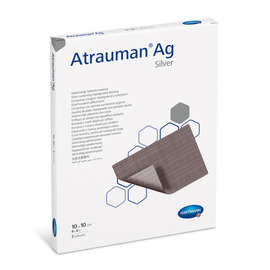 Description
Non-adherent polyamide textile wound-contact layer. 1mm pore size and impregnated with neutral triglycerides coated with metallic silver ('touch and kill'). Effective for up to seven days.
Indications
As a primary wound contact layer for a wide variety of contaminated, colonised and infected wounds.
Contraindications
Must be removed prior to X-ray, MRI, ultrasound or diathermy.
Sizes Available
5x5cm; 10x10cm; 10x20cm
Price
£0.53; £1.30; £2.53
More on: Silver , Wound contact dressings , Antimicrobial