Kerlix AMD Gauze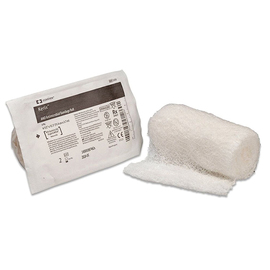 Description
Gauze rolls impregnated with 0.2% PHMB.
Indications
Primary dressing for exuding wounds. Suitable for first- and second-degree burns, surgical wounds and wound packing. Can be used as a secondary dressing to prevent bacterial penetration through and bacterial growth within the dressing.
Contraindications
Can be used in conjunction with prescribed therapies for the treatment of infection. Not intended as a primary treatment for infection. Do not use as a primary treatment for third-degree burns. Do not use on patients with known sensitivity to PHMB.
Sizes Available
11.4cmx3.7m roll (hard/soft)
Price
£1.66
More on: Antimicrobial , Polyhexamethylene biguanide (PHMB) , Wound contact dressings