Kendall AMD Antimicrobial Foam Disc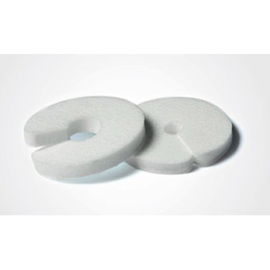 Description
Absorbent, non-adherent, semi-occlusive, polyurethane foam disc impregnated with broad-spectrum antimicrobial (PHMB, 0.5%). Double-sided with centre hole and radial slit. Antimicrobial barrier is effective for up to 7 days.
Indications
Designed to provide protection and cushioning at surgically induced body exit sites such as those associated with IV catheters, central venous lines, arterial catheters, dialysis catheters, peripherally inserted coronary catheters, mid-line catheters, tracheostomy, G-tube, J-tube, Penrose drain, chest tube, nephrostomy tube, sump drain, orthopaedic pins and epidural catheters. Provides local exudate management and the PHMB helps prevent bacterial colonisation of the foam dressing.
Contraindications
Can be used in conjunction with prescribed therapies for the treatment of infections. Not intended as a primary treatment for infection. Do not use as a primary treatment for full third-degree burns or on patients with known sensitivity to PHMB.
Sizes Available
2.5cm disc 7mm centre hole; 2.5cm disc 4mm centre hole
Price
Contact supplier
More on: Foams , Antimicrobial , Polyhexamethylene biguanide (PHMB)