Jobst FarrowHybrid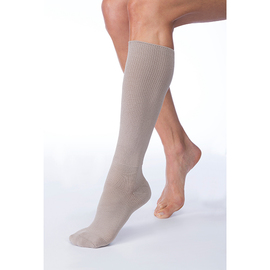 Description
Ready-to-wear compression sock providing compression from foot to ankle in two compression levels (20–30mmHg and 30–40mmHg). Latex-free. Machine washable and can be tumbled dried. For use with Jobst FarrowWrap legpiece (purchased separately).
Indications
For control of mild to severe foot swelling caused by: oedema, lymphatic and other swelling disorders; mild to moderate post-thrombotic syndrome; chronic venous insufficiency; venous insufficiency.
Contraindications
Moderate to severe arterial disease; mild arterial disease in the presence of peripheral neuropathy; untreated vein infection (septic phlebitis); uncontrolled (decompensated) congestive heart failure; untreated and/or advancing skin infection (cellulitis) involving the feet or legs; large blood clot in the vein of the leg (phlegmasia coerulea dolens); foot circumference >35cm or a calf circumference >60cm.
Sizes Available
Compression levels 20–30mmHg and 30–40mmHg: Standard and wide. Small, medium, large, extra large. Each pack contains 2 liners
Price
£24.00
More on: Hosiery: lymphoedema , Compression