Venosan 5000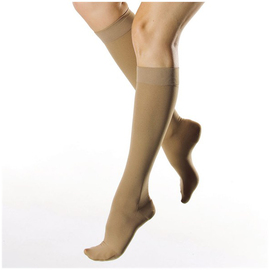 Description
Chronic oedema/lymphoedema garments for the leg. Available in short and long lengths. Colours: black, Mexico (tan), Morocco (natural).
Indications
For lymphoedema management following oedema reduction.
Contraindications
See instructions for use. Known sensitivity to compression stocking fabric.
Sizes Available
Below knee; thigh high with self-supporting silicone top band.
S, M, L, XL.
Available in class 1 (18–21mmHg), class 2 (23–32mmHg) and class 3 (34–46mmHg) (below knee only).
Price
Below knee: £27.34.
Thigh high: £52.27
More on: Compression , Hosiery: lymphoedema