Irriclens Cleanser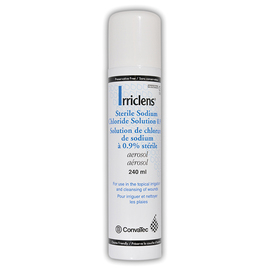 Description
Sterile saline (0.9% w/v sodium chloride Ph.Eur) in an aerosol can. Contains Nitrogen, an ozone-friendly propellant to expel saline from the can.
Indications
For use in the topical irrigation and cleansing of wounds.
Contraindications
For external use only. Do not spray directly into the eyes. Do not mix with any other fluid except as directed. Do not use for injections.
Sizes Available
240ml spray
Price
£3.64
More on: Irrigation and cleansing , Basic dressings