Spycra Protect Dressing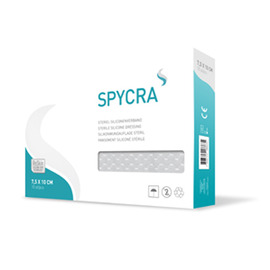 Description
Spycra Protect is a skin protect dressing designed to prevent friction damage and assist wounds to heal. The ReSkin Silicone Skin Technology combines two unique features:
- super-soft silicone adhesive
- bi-elastic top layer; elastic in the length and in the width.
Indications
Prevention and support of ageing fragile skin; past skin tears.
Care of epidermolysis bullosa.
Strengthening and maturation of tissue of recently healed wounds.
Protection of wounds until full healing occurs.
Prevention and care of scratch wounds; relief of itching.
Care of superficial non- to low-exuding wounds.
Prevention of friction wounds, e.g. bedbound patients, prosthesis users and any other 'at-risk' skin.
Mild intertrigo without signs of infection and without massive transpiration or fluids.
Maturation of post-surgical cicatrisation tissue.
Contraindications
Allergy to silicone. When used as a primary dressing, exudate above very low levels.
Sizes Available
5x7.5cm; 7.5x10cm; 10x18cm; 18x30cm; 5x150cm (roll)
Price
£1.32; £2.21; £6.44; £14.83; £17.92
More on: Skin protection