Curea P2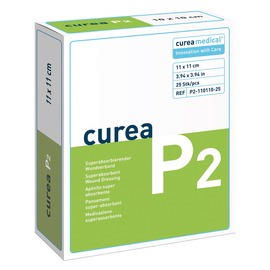 Description
Sterile, superabsorbent wound dressing. Absorbs under pressure, so suitable for use underneath compression bandaging.
Indications
Midly to heavily exuding wounds with new granulation tissue.
Contraindications
Dry wounds (stagnation). Do not use for mucous membranes, eyes, sinews or bones (desiccation). Caution with cavities, because the wound pad expands when absorbing fluid.
Sizes Available
10x20cm; 20x30cm; 11x11cm; 15x15cm; 20x20cm
Price
£4.53; £10.68; £2.49; £4.95; £7.88
More on: Protease modulating dressings , Absorbents , Superabsorbents