Curea P1 Border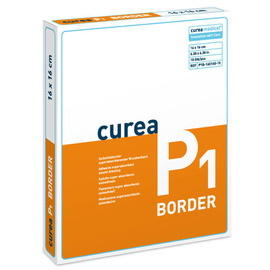 Description
Sterile superabsorbent wound dressing. The contact surface is made of polypropylene fleece; the absorbent pad consists of cellulose composite with fluid-retaining superabsorbent materials. The back contains a fleece connected to a breathable foil which forms an additional moisture impermeable barrier. The border is soft and flexible, with a skin-friendly adhesive. Effective absorption under pressure, even compression.
Indications
Mildly to heavily exuding wounds with intact surrounding skin. No additional fixation required.
Contraindications
Dry wounds (risk of adhesion). Do not use on eyes, mucous membranes or wound pockets because the wound pad expands when absorbing fluid.
Sizes Available
16x16cm; 15x25cm
Price
£4.03; £6.05
More on: Protease modulating dressings , Absorbents , Superabsorbents