Larvae 200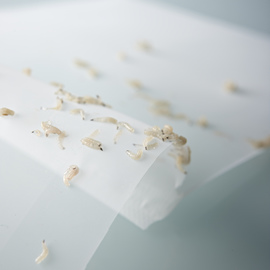 Description
Free-range larvae. A biosurgical treatment for the debridement and cleansing of wounds. Consists of aseptically produced larvae of Lucillia sericata, which are applied directly onto the wound using a retention bandage system. Each kit also contains a flat net (30x30cm), a boot net dressing (40x60cm), a hydrocolloid dressing (10x10cm), adhesive sleek tape, and saline (Irripod). These accessories can also be purchased separately, if required.
Indications
Chronic wounds such as diabetic foot ulcers, venous/mixed aetiology leg ulcers, pressure ulcers and dehisced surgical wounds.
Contraindications
Must not be used on wounds that have a tendency to bleed or are close to a major blood vessel. Should not be used on patients on anti-coagulants where the relevant clotting marker is not within the clinical range. Use with caution on wounds over/adjacent to exposed organs or leading to a body cavity, and then only under close supervision.
Sizes Available
Larvae and 30x30cm flat retention net, kit pack.
Larvae and 40x60cm boot retention net, kit pack.
Price
£174.03; £184.58
Additional larvae 200: £123.93
Accessories: flat net: £7.38; boot net dressing: £14.76; hydrocolloid dressing: £3.27; adhesive sleek tape: £2.22; saline: £0.58
These products are unlicensed, so must be prescribed on FP10
More on: Larval therapy , Other medical devices